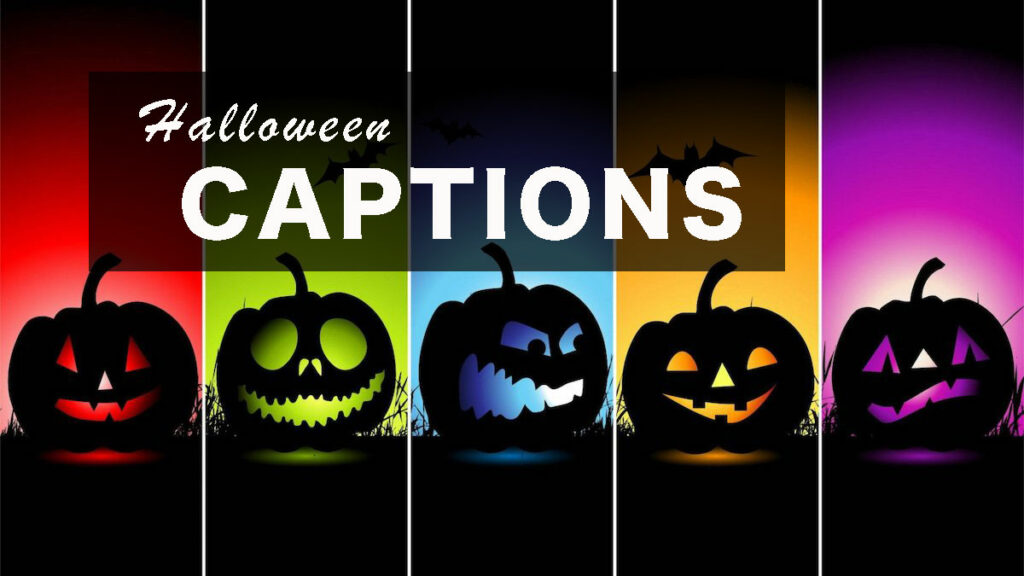 It's Halloween, which means it's time to look for several photos of you in your favorite Halloween attire.
Whatever the quality of your Halloween photo, the appropriate caption may enhance it. If you match your Halloween images with the right captions, you may really get them noticed if you post them on Instagram or another social networking site.
These Halloween caption ideas will definitely get people to look at your pictures.
Funny Halloween Captions
The best thing about Halloween is that you can dress up anyway you want for one day, no matter how bizarre or obscene it may be.
Everyone enjoys being a little bit spooky or humorous on Halloween, so if you decide to do so, you might want to try one of these witty captions for Halloween for genuine sarcasm.
Tricks or it didn't happen.
Orange you excited for Halloween?
The haunt is on for more candy.
Come as you *aren't.*
Trick or treat yo'self.
Ghouls rule and boys drool.
Bat to the bone.
Feeling brew-tiful!
You can't always get what you wand.
Bone to be wild.
You say witch like it's a bad thing.
This costume is eerie-sistible.
In the Halloween spirits!
Get in, we're going haunting.
Here for the boos.
Time to get this party startled!
#SquadGhouls
If the broom fits, fly it.
Creepin' it real.
Fangs for the memories.
No tricks, just treats.
Who run the world? Ghouls.
Not every witch lives in Salem.
Oh my ghouls!
If you've got it, haunt it.
Meet my boo crew.
New face, who 'dis?
Can be bribed with candy.
Bugs and hisses to my witches!
Too ghoul for school.
Demons are a ghoul's best friend.
You bewitch me!
I cannot be held responsible for any missing candy.
Ghouls just want to have fun.
Witch way to the candy?
I'm the guy that's gonna save your ass.
Best Halloween Captions
The spookiest holiday of the year, Halloween, is celebrated on social media as well.
Post all of your Halloween party pictures to display your inventive costume concepts that contribute to the eerie or spirited mood you want to create. Here are some amusing descriptions for Halloween pictures!
Ghostly Greetings!
Hell is empty and all the devils are here.
I'm a ghost with the most, babe.
Double, double toil and trouble; Fire burn and caldron bubble.
I am, what psychiatrists call, alpha male.
Get in, loser. We're going haunting.
Despite my ghoulish reputation, I really have the heart of a small boy. I keep it in a jar on my desk.
What an excellent day for an exorcism.
It's just a bunch of hocus pocus.
We just cut up our girlfriend with a chainsaw. Does that sound 'fine'?
Not going to eat candy? That's witchful thinking.
Use iodized salt to ward off witches, zombies, and old boyfriends.
May the ghost be with you.
Trick or treat, bags of sweets, ghosts are walking down the street.
Candy is my fuel. Ice cream, too.
Look, there's no metaphysics on earth like chocolates.
It's Halloween, go totally catty, batty, deadly, ghostly and scary!
Cottage cheese solves nothing. Chocolate can do it all.
It's all just a bunch of hocus pocus!
You are my treat for Halloween, so you don't need to trick me.
There is nothing that gives more assurance than a mask.
Come and ride with me. I prepared this broomstick for us to roam around the place.
Wishing you a boo-tiful and woo-nderful Halloween full of treats!
I got bite by a vampire and I liked it!
Where there is no imagination there is no horror.
Anyone who uses the phrase 'easy as taking candy from a baby' has never tried taking candy from a baby.
I love Halloween, and I love that feeling: the cold air, the spooky dangers lurking around the corner.
There is magic in the night when pumpkins glow by moonlight.
Scary Halloween Captions
Try one of these if you want to make your Halloween images seem more spooky:
Straight outta coffin.
I feel dead inside. And outside.
Why aren't you eating me?
Having a bloody good time!
We make up horrors to help us cope with the real ones.
The last man on Earth sat alone in a room. There was a knock on the door…
I've tried to take my own life 73 times. Every time was a failure. And messy.
Believe nothing you hear and only one half that you see.
I wish to organize the first serial killer convention. What do I need to do?
Blood is really warm, it's like drinking hot chocolate but with more screaming.
Welcome to my nightmare. I think you're gonna like it.
I am the ghost boo-ster! Happy Halloween!
You say WITCH like it's a bad thing!
Can you be my Halloween treat.
You are scary beautiful! Enjoy your Halloween!
When Halloween is here the monsters appear and the candies disappear.