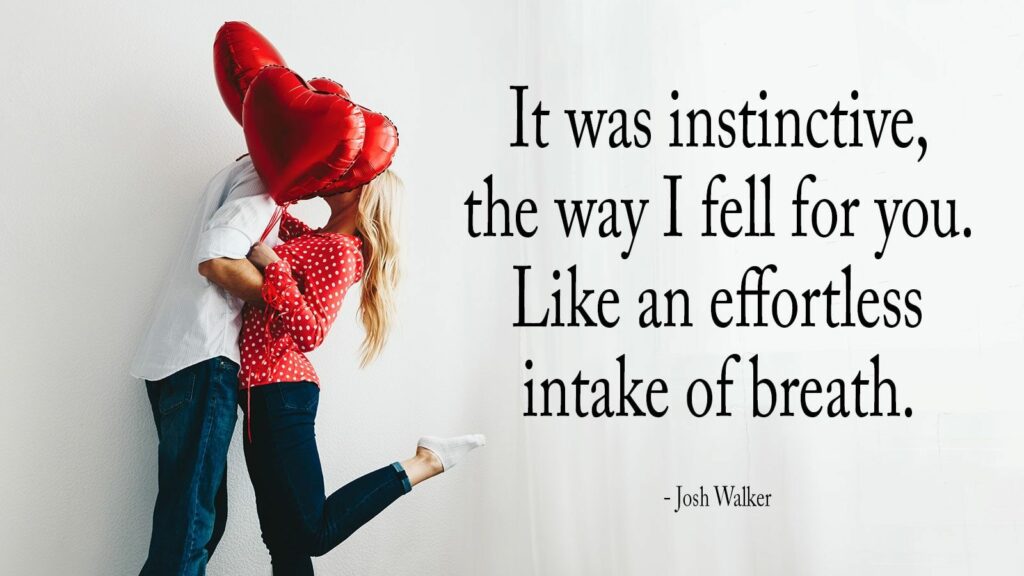 Reading quotations that may connect to how you are feeling might assist those sentiments become more firmly established. Falling in love is such an exciting period in your life. It shouldn't be difficult to locate a number of romantic quotations that you can relate to, whether you just want to read them or want to share them to your lover.
According to studies, delivering romantic phrases to your sweetheart may deepen your love and connection. Your spouse will enjoy a well-crafted and relatable phrase written by someone else rather than you having to come up with your own, as long as you are hinting that's how you feel about them.
ROMANTIC QUOTES FOR THOSE IN LOVE
LOVE QUOTES FOR THOSE IN A NEW RELATIONSHIP
New relationships may be interesting, stimulating, and cause a wide range of difficult-to-explain emotions. Quotes are the ideal technique to express such sentiments or perhaps to understand your own feelings.
1. "It was instinctive, the way I fell for you. Like an effortless intake of breath." – Josh Walker
2. "Because I could watch you for a single minute and find a thousand things that I love about you." – Author unknown
3. "I would do all, whatever, and any things as long as doing them meant doing them with you." – Tyler Knott Gregson
4. "The first time you touched me, I knew I was born to be yours." — Author unknown
5. "For the two of us, home isn't a place. It is a person. And we are finally home."
– Stephanie Perkins
6. "Love is not about how many days, weeks or months you've been together, it's all about how much you love each other every day." – Author unknown
7. "I wish I could turn back the clock. I'd find you sooner and love you longer." — Author unknown
8. "She knew she loved him when 'home' went from being a place to being a person." — E. Leventhal
9. "You. Your smile. Your voice. Your eyes. Your personality. You." – Tamara Stamenkovic
ROMANTIC QUOTES FOR THOSE WHO ARE MARRIED OR IN A LONG-TERM RELATIONSHIP
When you have been in a relationship with the same person for a time, it can be challenging to maintain the passion. It's simple to become so engrossed in daily activities that you fail to remember to consider how your spouse makes you feel.
10. "Sometimes it's your voice, other times it's your face, every time it's your touch, but you always fix me." – Leo Christopher
11. "He's more myself than I am. Whatever our souls are made of, his and mine are the same." – Emily Brontë
12. "True love stories never have endings." – Richard Bach
13. "A successful marriage requires falling in love many times, always with the same person." – Mignon McLaughlin
14. "I love you not only for what you are, but for what I am when I am with you." – Roy Croft
15. "The best love is the kind that awakens the soul; that makes us reach for more, that plants the fire in our hearts and brings peace to our minds. That's what I hope to give you forever." — Nicholas Sparks
16. "The greatest happiness of life is the conviction that we are loved; loved for ourselves, or rather, loved in spite of ourselves." — Victor Hugo
17. "I saw that you were perfect, and so I loved you. Then I saw that you were not perfect and I loved you even more." — Angelita Lim
18. "Maybe the only vow we ever need to offer the one we love is this: I will never, not for a sliver of a second, make you feel alone." — Tyler Knott Gregson
19. "I love you past the moon and miss you beyond the stars." — J.M. Storm
20. "I love that you are my person and I am yours, that whatever door we come to, we will open it together." — A.R. Asher
21. "Love is friendship that has caught fire. It is quiet understanding, mutual confidence, sharing and forgiving. It is loyalty through good and bad times. It settles for less than perfection and makes allowances for human weaknesses." – Ann Landers